The overall traffic across industries during the different country lockdowns and restrictions has remained stable. It is not until more countries joined the lockdowns around early March that we see a small decrease in the overall traffic volume. The stability, however, rather than a sign of an unchanging reality, is the result of users moving from one industry to the other. We'll get into that later.
Ecommerce Sites That Sell Essentials Are Surging Up
The ecommerce sites, with huge spikes in impressions and traffic in February end and march first two weeks
That's coming from people looking for toilet paper, hand sanitizer, Clorox wipes, thermometers, clearly product searches that are related to the pandemic.
This huge surge in demand, as well as product shortages, have even created new queries like "toilet paper near me" and "hand sanitizer near me."
On the other side, I've seen non-essentials like toys, smartphones and other related accessorizes experiencing drops in traffic, as well as products tied to travel, like luggage.
But things that are non-essentials today can become essentials after lock-down.
Health & Wellness Sites Are Surging Up
Recently, Google has been cracking down on content that provides advice and information on things like medical issues, holding it to a very high standard.
As a result of COVID-19, the health and wellness sites I've looked into are experiencing an overall surging up in online traffic.
Around the same time gyms started closing, we saw impressions and traffic spike for things like "ring fit" and other indoor fitness options and employees mandating from work at home.
Yep – that's around the same time surges for things like "office chair" and "office desk" started popping up and down in the query data.
Recipe Websites Slightly up in traffic and impression.
The recipe websites I've been able to look into so far have experienced an increase in impressions and clicks, although not quite as drastic as essentials retailers or health sites.
This is likely because more people are cooking at home as opposed to eating out.
This may continue to increase the longer restaurants are closed or operating at reduced capacity.
Travel Website Traffic Is All Over the Place are down.
The travel websites are taking huge traffic hits due to travel restrictions and social distancing on February end and march first two weeks.
My first inclination was that this must be attributable to people looking to cancel, reschedule, or get refunds for their bookings.
Turns out, it seems to be a bit more complicated than that.
I've actually noticed impressions and traffic surges for queries like "cheap flights" – potentially because with all the cancellations, people are assuming airlines will be selling seats at super discounted prices.
As the second march stated flight & Hotel queries seem to be trending down, especially in locations that are closed off.
The travel industry is diverse, encompassing flights, hotels, cruises, and more.
The specific impact is going to vary depending on the sector.
Overall though, the travel industry is definitely feeling the impact of Covid-19 attack.
Publisher Websites and Social media's Are in Incredibly High Demand.
This will surprise no one, but publisher websites and social media sites are experiencing huge surges in impressions and traffic.
People are looking for updates in all forms, from "coronavirus map" to how coronavirus is impacting the stock market and open market.
Restaurants and related apps Are Having to High impact.
While I haven't been able to look at any data from restaurant sites directly, the effects are apparent.
In many locations, restaurants are operating at limited capacity and online delivery is restricted to some locations.
In many others, restaurants and bars are closed completely after Mid of march.
That means queries local restaurants may have relied on pre-COVID are trending down.
Financial institutions remain stable
It is not all doom and gloom in the online space. Fortunately, some industries remain stable or even increase their activity during these uncertain times. Financial institutions are one of those. This stability could be explained by the customer's need for money to face today's challenges or access goods.
Organic traffic is down in most industries
As per the neilepatel site review organic traffic is falling down, they are tracked few industries.
Neilpatel said "last week we saw huge drops in organic traffic for most industries we are tracking. Just look at the chart below (compares last week to the previous week)".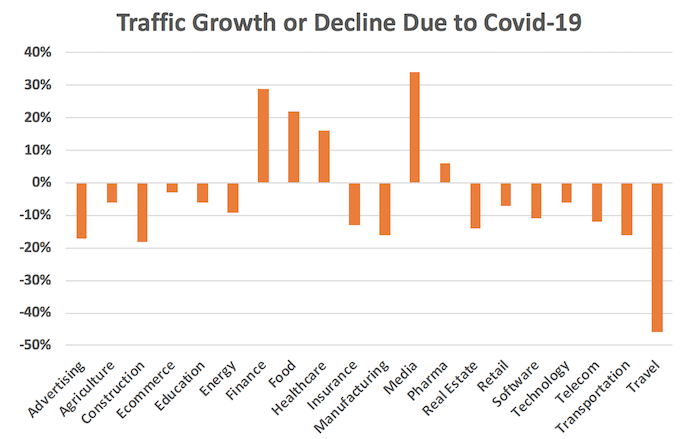 If you are in the news industry or financial space, your traffic skyrocketed.
And if you are in the travel industry, you saw massive drops in traffic.
You can't tell by the chart, but e-commerce was a mixed bag, depending on what sites sold, traffic was either up or down. For example, if you were selling baby products like diapers or wipes then you saw a nice bump in traffic.
Neilpatel website focusing to the second point that is Conversion growth or decline due to covid-19, they said, "we saw drops in most industries as well. Even the financial sector, which had big traffic booms in traffic, dropped in conversions".
Just look at the chart below (comparing last week to the previous week):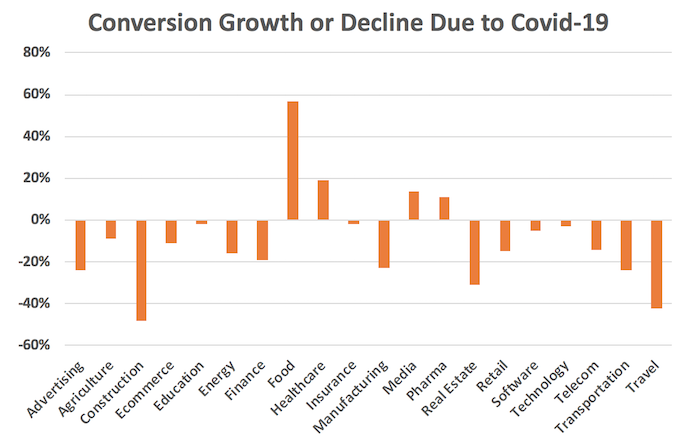 As for news (media) sites, they had a big conversion lift as many of them charge for people to read their updated information.
The third point from Nielpatel is "Pay-per-click data" they said "We don't have as much pay-per-click data as we do for SEO as Ubersuggest is mainly used for SEO purposes, but we haven't seen big shifts in cost per click… even for things like the travel industry".
Hopefully, the Coronavirus passes soon and it has minimal impact on lives. For the time being, try not to socialize with others too much or go into crowded places.
Stay at Home and follow instruction from government officials, Keep safe from Covid -19